Chicago Architectural Institute tour Chicago Old and New
We woke up to 70 some odd degree temps in Chicago and decided to take a walking tour of Chicago's Old and new buildings at 11am. Apparently, we shoulda heeded the weather warnings of 90 degree temps coming in. By midtour, I was soaked. The tour, itself, was wonderful, and the docent showed us as much of the exteriors as he could without us melting. The tour examined several of the intersections of the city where the architecture of the 1800s met the architecture of today. Brilliant tour.
Dripping in Sweat
80+ degrees and miserable..
Lunch at Halo
Graceland Cemetery
After lunch, we were really to late to do much of anything with our Go Cards, so we opted to take a long walk in the Graceland Cemetery. Many notable Chicago figures are held here for eternity.
Let me say, some of the tombs are works of art in and of itself.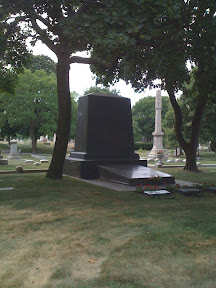 Shower and Nap
Whew!!! The heat'll take it right out of you!
Dinner at Lou Malnati's
I'd been waiting for some great deep dish, Chicago-style pizza and I found this restaurant near the hotel. Dee-lish-ous pizza pie, with an awesome buttercrust and homemade sausage. Yummmmm!
- Posted using BlogPress from my iPhone