Started our day with the Chicago Food Tour, once we figured out which way we needed to go on the Red Line.
Nicole was our tour guide on our walk and she was perky for 11.
Stop 1: the Ashkenaz Deli for a delicious pastrami Reuben sammich!
Stop 2: Tea Gschwender for Cranberry Mango green tea. I'm not usually a tea drinker, but it was delicious and refreshing!
Stop 3: The Spice House for a delicious sampling of spices and rubs.
Stop 4: Old Town Oil
Delicious EVOO and balsamic vinegars!
Stop 5: The Fudge Pot
Chocolate Shan Gri La!
We got to sample their chocolate toffee. Smooth chocolate, crunchy toffee, amazing flavor!
Stop 6: Delightful Pastries
Here we had pirogees and kolaches. Yummy food from a bakery dedicated to the traditional foods of Poland.
Stop 7: Bacino's Italian for a Stuffed Spinach Pizza. It was good. I couldn't rave because I generally don't love or eat spinach, but the flavor of the sauce and crust made up for it.
After our food tour, we got directions to the Nature Museum near the Lincoln Park Zoo.
It's a beautiful, beautiful building, from an architectural standpoint, that houses a wonderful butterfly exhibit, a nature park, and exhibits on the wildlife native to the area. The Butterfly museum is a must-see.
From there, we took a walk along the beach along Lakeshore drive,
envying all the fit, gorgeous joggers who passed by us.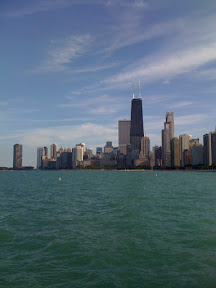 The day was long, so we worked our way back "home"ward and picked up some tea at the place on the tour and found a train back to the hotel. Dinner was in the hotel's Thai restaurant. Then back upstairs to read and let our legs recover from the day.
Tomorrow: More architecture and museums!
- Posted using BlogPress from my iPhone