Field Museum
Wow! The Field Museum of Natural History is gimormous! We budgeted about 3 hours inside, but that only really got us through the first wing! So much to see and so much to experience, from Sue, the first nearly complete T. Rex fossil to an exhibit on North American mammals, Whales, and the progression of African people and culture to the Americas. A-maz-ing!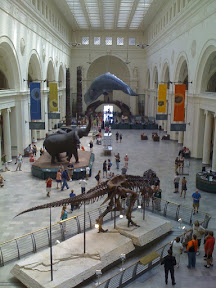 Apologies to JayT and Rambleredhead for not getting to hang out with them while in Chicago, but we will be back!
Ricky and Lauren!
We finished at the museum and headed to the hotel for our evening with Ricky and LaLaLauren. We honestly didn't know if we were going to have an evening free, but Ricky made the invitation and we couldn't have been happier! We also got to meet James Leroy, who is supercute, and his equally lovely partner, Bill. I even got to be a part of "the little show!"
The Southern
Afterwards, we all trooped out to The Southern restaurant. A great little restaurant in Bucktown, it serves good ole fashioned Southern food kicked up a notch, like Shrimp on cheesy grits, Mac and cheese with Gouda and some such cheeses. For you Foursquare folks that think you rarely get anything for your check-ins, we got a beer flight (slightly larger than a shot sized glasses of the bar's draft beers as a sample)! Good times and we learned that Ricky can talk and cruise simultaneously, and Lauren's breasts can do tricks! Thanks, y'all!
- Posted using BlogPress from my iPhone