We began our day by getting up, let me say, Jack getting up all bright-eyed and bushy-tailed at 5 o'dark in the morning. He then gave me the opportunity to sleep in until about seven o'clock in the morning. We went downstairs to have breakfast, and our rule is usually not to eat chain restaurant food on vacation, so we ate at the hotel diner.
After breakfast we walked to the Navy Pier from the hotel. We had to cross Grant Park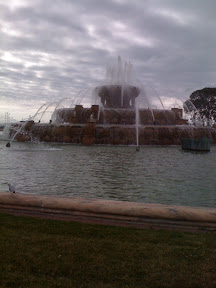 and about a mile and a half to 2 miles later we made it to the Architectural Shore Cruise. (Side note: we also had our first Chicago podcaster moment thanks to Rob Lindley and the phrase "doinger shorts." One of the little boys assisting on the cruise was freeballing in a pair as the ship sailed up to land. Later, we would notice his "runway walk" on the deck and figured we'd found a true seaman.) The Shore cruise is a fantastic way to see all of the wonderful building of Chicago, with an unobstructed view from the water. The cruise took us up the river and all the way to the Sears Tower and back to the Navy Pier. Once we were back at the pier, apparently all of the parents and children were awake and we had entered our own private hell of tour groups. Lots of lots of children's tour groups. Still the Navy pier is a fun and interesting place to walk around. We found ourselves in the museum of stained glass and it was beautiful.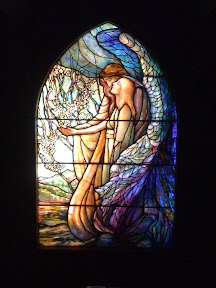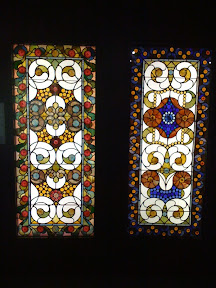 After the stained-glass museum we worked our way up to the midway where we rode the Ferris wheel and the swings.
We took a ride on the water taxi from the Navy pier across to the museum park where we went to the Shedd aquarium. The Shedd aquarium is one of the best aquariums we've ever been to, full of wonderful experiences and it's probably one of the best places in Chicago to take children.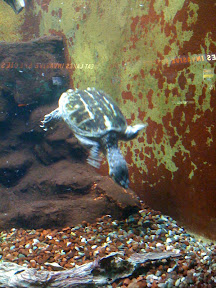 There are many picture taking opportunities within the Shedd aquarium, from the shark tank to the coral reefs to the many special exhibits within. Today, we went to the Jellies exhibit, a fascinating look at the lives of jellyfish.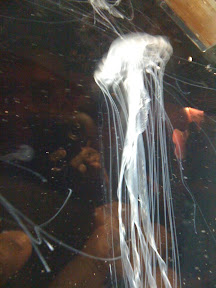 About three hours later, we left the Shedd aquarium and made our way back to the hotel...worn out and really ready to go to bed. After a quick shower and nap, we left the hotel and made our way to the Tamarind restaurant. Some good Thai food later, and we came back to our room to crawl into bed and plan another day.
Tomorrow: The Chicago Food Tour!
- Posted using BlogPress from my iPhone