The Art Institute of Chicago
We started our day at the Art Institute. This museum is one of the premiere art museums in America, housing works of art from Monet, Monet, Tiffany, O' Keefe, Munch, Cezanne, Whistler, Rubin and more. Paintings sculptures, furniture, modern, pop, folk...it was a full day's worth of wandering.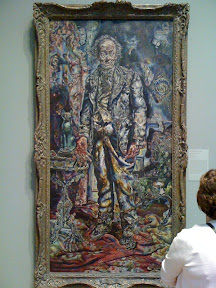 Millennium Park
We left the museum and took a short walk over to Millennium Park. There was a concert going on, joggers, skateboarders, camp groups and such. We ate next to The Cloudgate or "The Bean" and just enjoyed people-watching.
The Architecture Society of Chicago
We had our Go Cards and thought we would run over to the Architecture Society's location and book one of the walking tours of the city. About a block away from the museum, this building offers tours of the city's skyscrapers, giving the history of the buildings and its construction. The store is also a fun gift shop of things Chicago, plus items with fun design.
Tours were sold out, so we planned another day.
H&M
Dallas is getting one this summer, and once I lose a little more weight and get heroin thin, the pants will fit better. (Read: cut for men without butts.)
I still found some shirts, so it wasn't a loss.
Dinner : Halo Dreams
We stumbled upon this restaurant on our way to H&M. This Asian restaurant features Thai, Chinese, and Hawaiian foods and rated very well with Yelp! so try it if you get a chance.
Chicago Public Library
We passed the library several times w/o knowing what it was, we just noticed the beautiful ironwork at the top and decided to check it out. The library is the largest public library in the United States.
Barnes and Noble
Across the street, we shopped at onevof the college's Barnes & Noble locations for books and magazines. (Really, we stopped to pee, but apparently they don't like public restrooms in the city.)
Dunkin Donuts
Chicago loves Dunkin Donuts like the rest of the world loves Starbucks. One on just about every corner and e'rrybody comes in to special order a biilion. I was on a mission to either try the Captain America one or get my old standby, French Delight.
Zzzzz
Um...by that time, we were pretty wiped, so sleep came easily. Like, REALLY easily.
- Posted using BlogPress from my iPhone